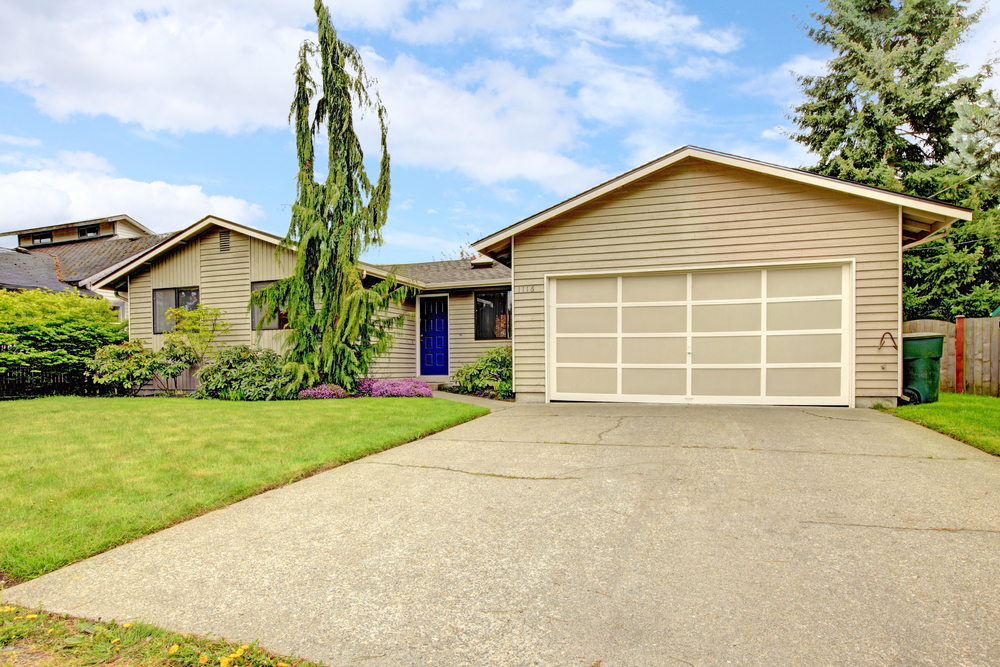 Concrete driveway repair is an affordable and highly effective way of repairing damaging slab cracks.
If you have cracks in your concrete driveway, repairing the problem can improve your driveway's strength and boost the curb appeal of your home. And it can save you from paying the hefty costs of concrete replacement.
Resurfacing and slabjacking are two commonly used methods to restore a concrete driveway. What's the difference? And which method should you choose? Let's compare these two concrete repair methods.
How Resurfacing Works for Concrete Driveway Repair
Resurfacing is a multi-step process that coats the top of the existing slab.
The driveway surface is first cleaned with a power washer to remove dirt and grime. Next, cracks are primed, repaired and patched, and holes are filled in with an epoxy mortar. After the cracks and holes are repaired, the entire surface is covered with a concrete overlay. Before driving on a resurfaced driveway, it is necessary to let the overlay dry for 48 to 72 hours.
With resurfacing, the surface flaws in your driveway are covered completely, so you'll end up with a surface that looks brand new – at least for now.
How Slabjacking Works for Concrete Driveway Repair
Slabjacking, also a multi-step process, is an effective means of fixing the cracks in your driveway and creating a level, stable surface.
The process involves drilling several small holes, strategically placed near the damaged areas. Next, a polyurethane foam or a cement grout mixture is sent through the holes to fill voids or empty pockets in the soil beneath the driveway.
The slabjacking process works to close cracks, lift sunken areas and return the driveway to its original position. Once the surface is level, the drilled holes are filled with new concrete and the cracks are caulked.
After slabjacking, you can walk on the driveway right away, but you'll have to wait a few hours before driving on the surface.
Why Consider Slabjacking for Concrete Driveway Repair
Resurfacing your driveway can prove you with a beautiful, durable surface that looks as good as new. With slabjacking, you will still see evidence of the concrete repair, as the filled holes and cracks remain visible. So why should you consider slabjacking?
The answer is simple. Resurfacing does nothing to fix the problems in the soil under your driveway, the issues that caused the cracks to appear in the first place. Consequently, the existing cracks will break through eventually and potentially be joined by additional flaws.
If the driveway slab has any sunken areas at all, resurfacing will do nothing to correct
the problem.
Slabjacking isn't much more than just a surface repair. It stabilizes the soil foundation so that the cracks don't reappear. Any settled areas will be brought back to level. And,
more important, you won't have to repeat this concrete repair for many years, if at all.
And, if a new-looking driveway is what you want, you can have resurfacing done after the slabjacking is finished.
Lift Right Concrete LLC serves homeowners throughout northern Utah. Visit our website for more information or call our West Jordan or Grantsville office today to learn more about our effective and affordable concrete driveway repair options.