In a perfect world, every homeowner would know about concrete jacking, as it's often the best repair option for a sunken slab. But many look at the damage and think that tearing out and replacing the concrete is their only choice.
Were you planning on going that route? Concrete jacking – also known as slabjacking or slab leveling – is a smart alternative. Here's the information you need to make the right decision on how to repair your cracked, settled or sunken slab.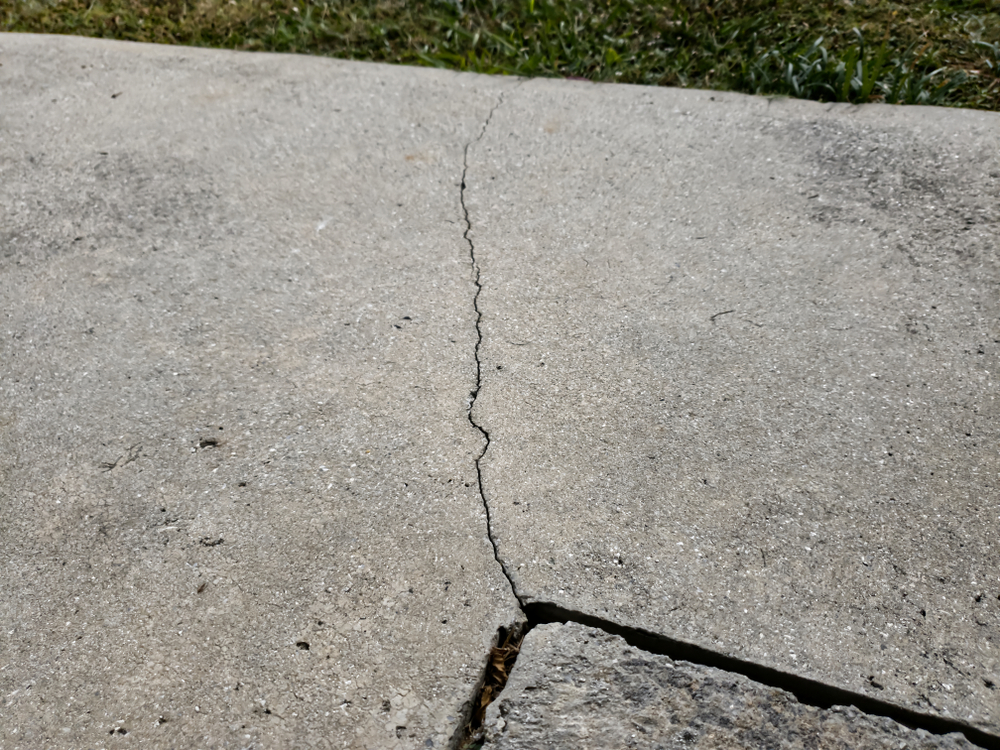 How Concrete Jacking Works
Slabs sink as a result of changes in the soil. Frost heaving, water drainage and a host of other factors cause the soil to shift, which creates pockets of air under the concrete. These conditions make a slab unstable and lead to settlement.
Concrete jacking works to correct the problem by filling the air pockets with a special cement slurry mixture. Once the voids are gone, pressure restores the slab to an even, stable position.
Reasons to Consider Concrete Jacking
Slabjacking has several advantages over tearing out and replacing concrete. The benefits of slab leveling include:
Affordability
Slabjacking is by far the least expensive repair option for a sunken slab. With a tear-out and replacement project, the cost is typically two to three times as much.
Ease of Repair
The slab leveling process is fast. Once the work is complete, the slab is ready for light use right away and heavy weight just a few hours later. None of these is the case when tearing out and replacing concrete.
Repair Results
Because slabjacking stabilizes the soil under a sunken slab, the repair method is highly effective. With proper caulking, concrete can remain standing strong for quite a few years.
Are There Any Downsides to Concrete Jacking?
Now that you know the pros of slabjacking, you want to know about the cons – there has to be a catch, right?
Well, slab leveling isn't the right remedy for every sunken slab. The repair technique isn't recommended for badly cracked, crumbled or deteriorated concrete. If yours has too much damage, slabjacking won't work.
The only other possible downside to slab leveling is that you can see evidence of the repair – your concrete won't look absolutely perfect. But then again, it may not look all that perfect after tearing it out and replacing it, as the newly poured slab is likely to be different in color than your other concrete surfaces.
Would you like to learn more about slabjacking? Lift Right Concrete, a leading northern Utah contractor, offers free slab leveling consultations to homeowners and businesses in the greater Salt Lake City area, along the Wasatch Front and throughout the surrounding communities. To discuss concrete jacking for your sunken slab, contact our Grantsville or West Jordan office today.