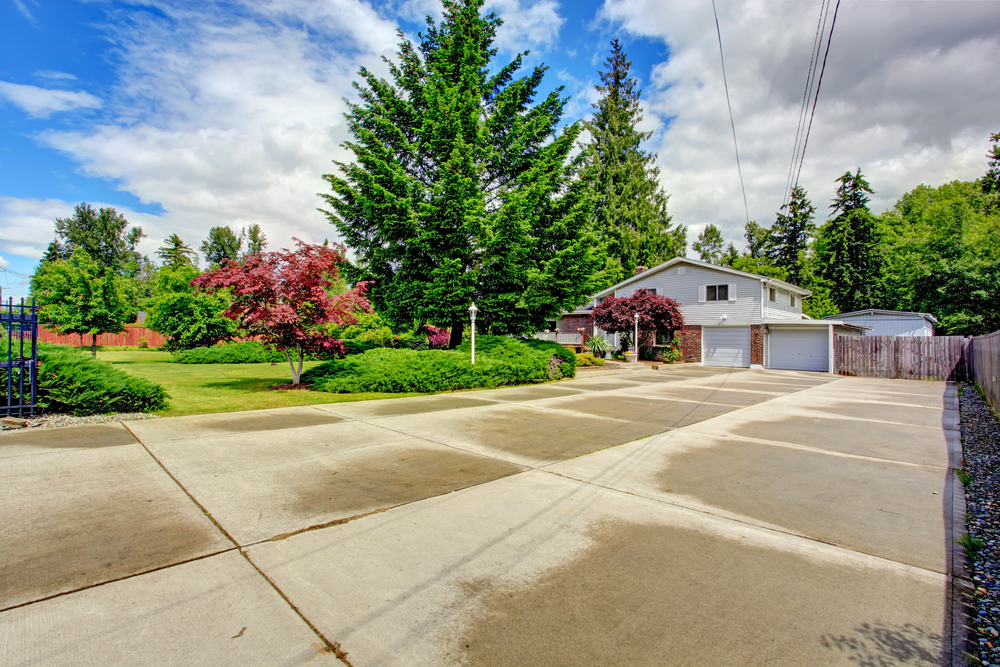 Lifting settled concrete is an effective and less expensive alternative to replacing cracked, tilted or sunken slabs.
Used in the commercial sector for decades for repairing roads, parking lots, factory floors and other unsettled areas, these advanced techniques are now available to homeowners.
Uneven steps, sidewalks, patios, garage floors and more can be lifted and leveled at a much lower cost than pouring new concrete. Here's how the process works.
Lifting Settled Concrete with Mudjacking
Mudjacking, also referred to as slabjacking or pressure grouting, is the oldest and most commonly used method of raising concrete.
This process drilling several holes, typically about 2 inches in diameter, through the cracked or uneven area to reach beneath the slab. A slurry made of sand, cement, mud and other materials is then hydraulically pumped through the holes.
This grout mixture stabilizes the soil beneath the slab foundation and creates pressure, which lifts the concrete. Once the surface floats up to level, the drill holes are patched.
Lifting Settled Concrete with Foamjacking
The process of foamjacking is not all that different from mudjacking. Both methods require strategically-placed holes to be drilled, and both involve hydraulically pumping a mixture of materials under the slab.
With foamjacking, however, the holes are much smaller, usually just over a half inch wide. And, rather than a cement slurry, this method uses a closed cell polymer foam. This high-density foam expands to consolidate the soil and fill the voids under the slab foundation. As it expands, the concrete is lifted.
And, just as with mudjacking, the drill holes are filled after the concrete is lifted to an even position.
Which Method Should You Choose?
Due to its lower cost, mudjacking is still traditionally used in most residential and small commercial concrete repairs.
For both homes and businesses, this method is a proven and popular choice for making concrete surfaces safe, level and secure. Foamjacking has generally been reserved for large-scale commercial applications. However, as the cost of the polymer foam mixture has dropped somewhat, foamjacking is becoming more widely used.
The foamjacking method of concrete raising offers several advantages over mudjacking.
Fewer holes are needed, so the repairs are nearly invisible. And, the foam material is lighter than the cement slurry, which creates less of a burden on the soil. The foam also holds its shape, volume and density better, making it a longer-term solution to settled concrete.
The professional team of Lift Right Concrete can analyze your cracked and uneven slabs to determine which repair method is best – and most cost-effective – for you. Contact our West Jordan or Grantsville, Utah location today to schedule a consultation.
We serve clients throughout northern Utah, and we look forward to lifting the settled concrete at your home or business.