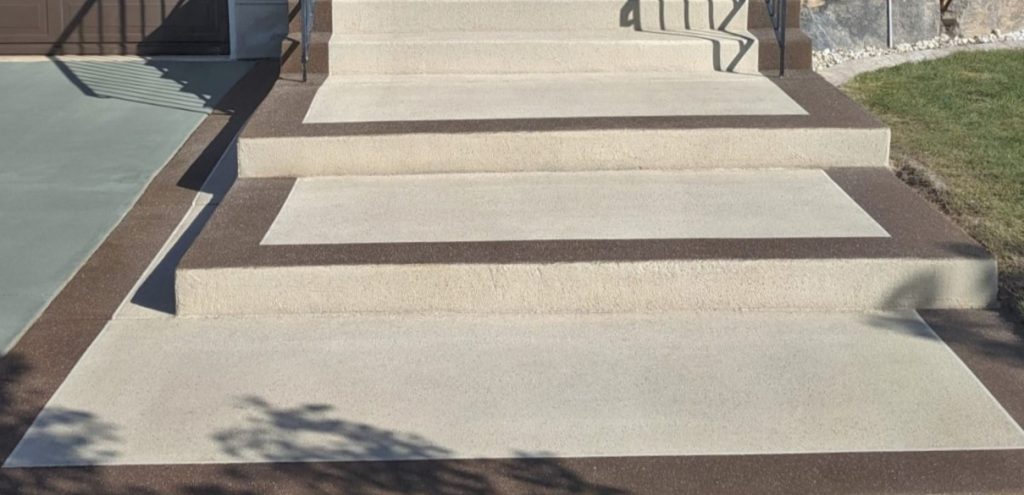 A concrete overlay is a thin layer of cement spread over existing concrete. This process is a great option for a variety of reasons from simply aesthetics to safety precautions. In Utah's climate, concrete overlays are only practical if the correct product is applied, otherwise it can easily crack or chip off in a short amount of time. At Lift Right Concrete, our overlays are sourced from the highest quality product made right in here Utah specifically to handle our harsh freeze and thaw cycles. Here are some of the top reasons to choose an overlay for your concrete update project:
Update the Style To Your Home's Concrete
Give your concrete an updated look with a pop of color and classic design. Adding a colored trim around your porch or walkways looks sleek and sophisticated on any home. You can choose another color to go over your driveway for added curb appeal that won't break the bank. If you have a pool or hot tub, you want that area slip-free, which is where adding aggregates, flakes, or beads come in handy for both function and style. You can even make your concrete look like a wood plank finish with an overlay. Patterns and textures look great on decks, pool areas, or patios and are popular due to the limitless possibilities and versatile applications.
Smooth and Level Walkways, Stairs & Patios
Over time, concrete will chip or can become uneven from tree roots, water infiltration, or ground settling. Sometimes it can get so uneven that you may need to lift the concrete or start over. But if it's not extreme, an overlay will work saving you a lot of money while still getting a brand-new look. Tripping hazards from uneven concrete can be prevented with a quality overlay, making it functional, safe, and attractive once again.
Save Time, Money, and Mess On Your Concrete Overlay
Naturally, an overlay will be more cost effective than a new concrete slab. And it will save mess and time by not needing tear out the existing concrete and start from scratch. The Utah-based product we use will ensure the overlay will last up to ten years. If you're planning to put your house up on the market and your home needs concrete repair, consider an overlay before investing in a replacement. It may just be what you need, and you'll feel better knowing the project will be finished more quickly and with less fuss.
Preserve the Concrete You Do Have
Sometimes concrete just needs a pick me up. If your concrete is old and is just showing some basic wear and tear, but no real problems, an overlay can prolong its life. Resurfacing what you have will provide a protective layer for your existing concrete and serves a practical purpose. However, don't be afraid to use this necessary update to add some flair to your current concrete area for minimal extra dough. Our honest professionals will be able to tell you if an overlay is practical or if it's necessary to get a full replacement.