Concrete repair contractors don't reach for deicing salts when faced with icy steps, sidewalks and driveways – for good reason.
Snow and ice melting salts work well, and using them is a fast and easy way to eliminate dangerously slippery surfaces. However, salt-based deicers are no friend to your concrete. In fact, over time, these products can cause significant damage.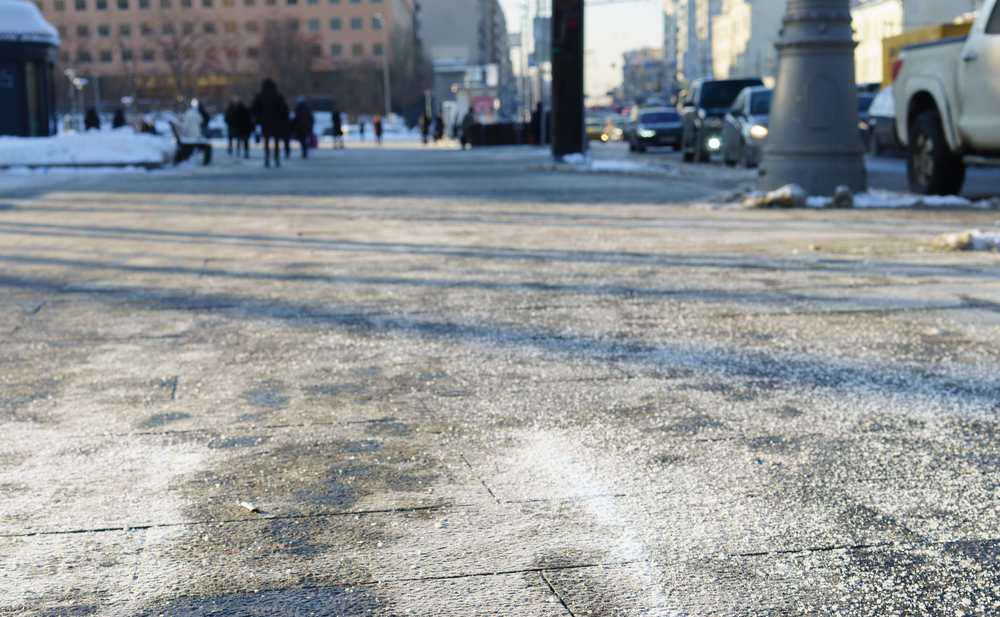 How Deicing Salts Affect Concrete
Several different types of salt-based deicers are available, all of which pose a threat to concrete surfaces.
The problem with these products? The chemicals they contain interact with concrete, leaving it more vulnerable to water infiltration. Slush can easily seep inside, then refreeze when the temperature drops. Since water expands when it freezes, slabs treated with snow and ice melting salts are more likely to crack and settle.
Limited use of deicing salts may not cause a great deal of damage, but applying them all winter long can accelerate the need for concrete repair.
What to Use Instead of Deicing Salts
So, how do concrete repair contractors recommend removing snow and ice from steps, sidewalks and driveways?
One option is to apply a small amount of a salt-based deicer, then immediately grab a shovel and clear away the softened ice and slush. With this approach, the deicing salts don't sit on the slab for long, so the risk of damage is minimal.
If you'd rather skip using snow and ice melting salts – as many professional contractors do – you can apply sand, gravel, sawdust, cat litter or ash from the fireplace for traction. Or, choose an organic, salt-free deicer that doesn't contain damaging chemicals.
Winter Maintenance Tips to Avoid Concrete Repair
Aside from not using deicing salts, what else can you do this winter to stop your slabs from cracking and settling? To safeguard the integrity of your concrete, repair contractors recommend taking the following steps:
Always remove snow and ice as soon as possible
Make sure your drainage downspouts don't point toward your driveway, sidewalks or patio
Limit parking on the driveway to minimize the transfer of chemicals from road salts to the surface
As for next year, apply a high-quality sealer to your concrete surfaces before the icy, snowy weather arrives. A sealant protects slabs, as it provides a barrier that helps prevent water infiltration.
If you end up with a cracked or settled slab in the spring, schedule repair early in the season. The damage will only get worse as time goes on, and fixing the problem quickly can keep your repair costs low.
For a fast, effective fix at an affordable price, turn to the professional concrete repair contractors at Lift Right Concrete. Our expert mudjacking service works to stabilize and restore damaged slabs, and mudjacking costs much less than tearing out and replacing cracked or settled concrete.
Lift Right Concrete, the leading northern Utah concrete services company, offers free, no-pressure mudjacking consultations to homeowners and businesses throughout the greater Salt Lake City area. For more information on mudjacking, or to make an appointment with our concrete repair contractors, contact our Grantsville or West Jordan office today.