Concrete slab leveling is a quick, easy and cost-effective method to restore damaged concrete surfaces. Cracked driveways, sagging steps, uneven sidewalks and other sunken outdoor slabs can be raised and stabilized using this repair process.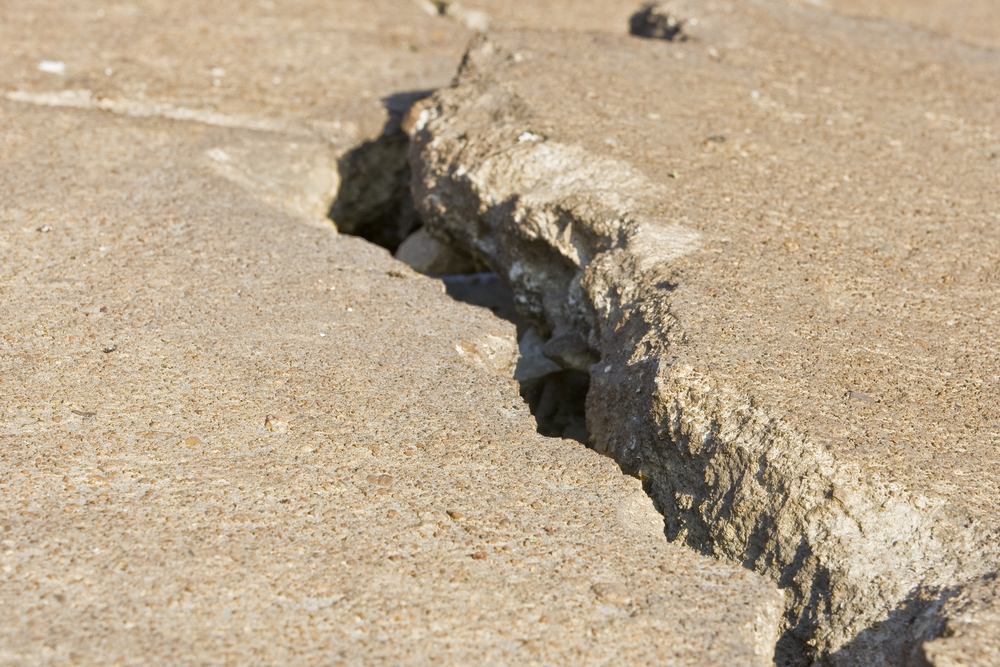 Two different techniques – mudjacking and polyjacking – are commonly used for slab leveling. What's the difference? And which one should you choose?
Pros and Cons of Mudjacking
Mudjacking has been around for over 80 years. This slab leveling process hasn't changed much in all that time, because it has been proven to work.
With mudjacking, several two-inch holes are drilled in the damaged concrete slab. A mixture of Portland cement, water, sand and other ingredients (like clay, shale and limestone aggregate) is then pumped directly into the holes. The mudjacking slurry fills the empty areas or voids under the slab, lifting the concrete back to its original position.
Mudjacking is the least expensive method of professional concrete repair, and most slab leveling projects take just a couple of hours to complete.
On the negative side, the mudjacking cement slurry is rather heavy. Over time, unstable soil under a slab can be compressed, which can result in resettlement.
Pros and Cons of Polyjacking
Polyjacking was developed in the 1980's for commercial applications, and has recently become a popular choice for residential concrete slab leveling work.
Also known as foamjacking, this concrete repair process is very similar to mudjacking, as it also requires drilled holes and injections into the damaged slab. However, polyjacking has two key differences.
First, the holes are much smaller, at just over one-half inch wide. This means the drilling necessary for polyjacking is less disruptive.
Second, instead of a heavy cement mixture, polyjacking uses a lightweight polyurethane foam that expands to fill voids under the slab. The foam creates less of a burden on the soil, which keeps the concrete stable longer.
Polyjacking only has one slight disadvantage – the price. Polyurethane foam is more expensive than the cement slurry used with mudjacking, so repair costs are a little higher.
Which Concrete Slab Leveling Procedure Should You Choose?
Mudjacking and polyjacking are both effective at repairing settled, sunken, cracked and damaged concrete. The best choice for you depends on your goals.
Do you want your concrete slab to look as good as new, with very little evidence that repairs were done? If so, polyjacking is your best option, as the tiny holes and concrete cracks are hard to see once they're filled in with cement.
If, on the other hand, budget is your primary concern, you may want to go with mudjacking. And don't worry – your repair job still won't be all that noticeable. But keep in mind that polyjacking is a more permanent solution, keeping your concrete slab stable and preventing future problems.
The professional team at Lift Right Concrete LLC offers free mudjacking and polyjacking estimates to homeowners throughout Utah. Contact our Grantsville or West Jordan office to schedule your concrete slab leveling estimate today.