Choosing the right concrete lifting contractor requires a bit more effort than a simple web search. You need a reputable, reliable professional slabjacking company that can provide quality work – which may or may not be the contractor at the top of the search engine listings.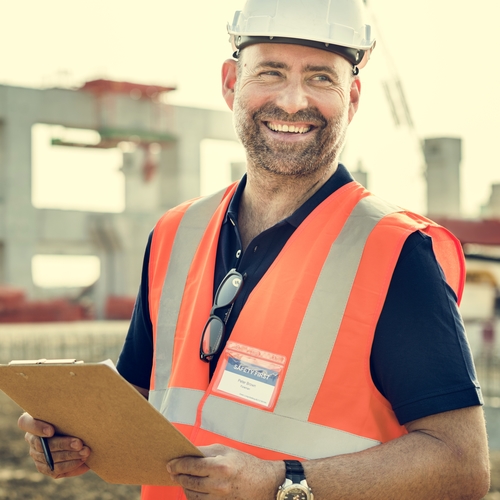 To ensure you hire a concrete lifting contractor you can trust, make sure you're well-informed. Here are five important questions to ask before selecting a slabjacking company to repair your concrete.
No. 1: Is Concrete Lifting the Appropriate Repair Method?
Slabjacking can work to fix cracked, uneven or settled patios, porches, driveways, garages, sidewalks and other concrete surfaces.
But it isn't always the right type of repair. If the slab surface is crushed or crumbled, or if the damage is extensive, slabjacking isn't appropriate.
Some companies will gladly take your hard-earned cash for repairs that may not work. Not so at Lift Right Concrete – we'll let you know if slabjacking is a good fit to repair your damage.
No. 2: Are You Licensed and Insured in the State of Utah?
Concrete work in Utah requires a license from the Division of Occupational and Professional Licensing (DOPL). As part of the qualifications for a slabjacking contractor license (and periodic renewal), current proof of insurance is a requirement.
If you hire a concrete lifting contractor who isn't properly licensed in the state of Utah, you could be held liable in the event of an accident. Ask each slabjacking company about their license and insurance status. Or, better yet, verify the contractor license information yourself at the DOPL website.
No. 3: What is Your Level of Experience with Slabjacking?
Slabjacking isn't a skill that can be learned from books or picked up in a couple of weeks. Professional training is a must, but nothing holds a candle to years of experience.
Practice makes perfect, after all, so you need to hire an experienced concrete lifting contractor. Ask how long the company has been in business and how many slabjacking projects they have successfully completed to gauge their level of experience.
No. 4: Do You Offer a Guarantee for Concrete Lifting Projects?
What if you get slabjacking done and then, a short while later, you notice the concrete sinking again? That doesn't happen often but, if it does, you will want the problem fixed.
With some unscrupulous companies, you could be out of luck. Lift Right Concrete, however, guarantees all of our slabjacking work for a full 18 months. If your slab sinks over one-half inch, we'll redo the project.
No 5: Do You Have References from Previous Concrete Lifting Customers?
Browsing before-and-after photos can give you an idea of the quality of a slabjacking contractor's work. However, photos can only tell you so much.
Ask each company for references from a few recent slabjacking projects. Reputable contractors like Lift Right Concrete are more than happy to share this information. Call the previous customers and chat with them about their experiences. This step alone can give you a clear picture of which slabjacking contractor is the right one to hire.
The professional team at Lift Right Concrete welcomes your questions about our slabjacking services. Contact our Grantsville or West Jordan office today, and we'll have an expert concrete lifting contractor visit your home for a free slabjacking consultation.