Concrete slab leveling is an affordable and highly effective repair technique for sunken or tilted concrete. Also known as slabjacking, this process works to return settled concrete back to a level and stable position.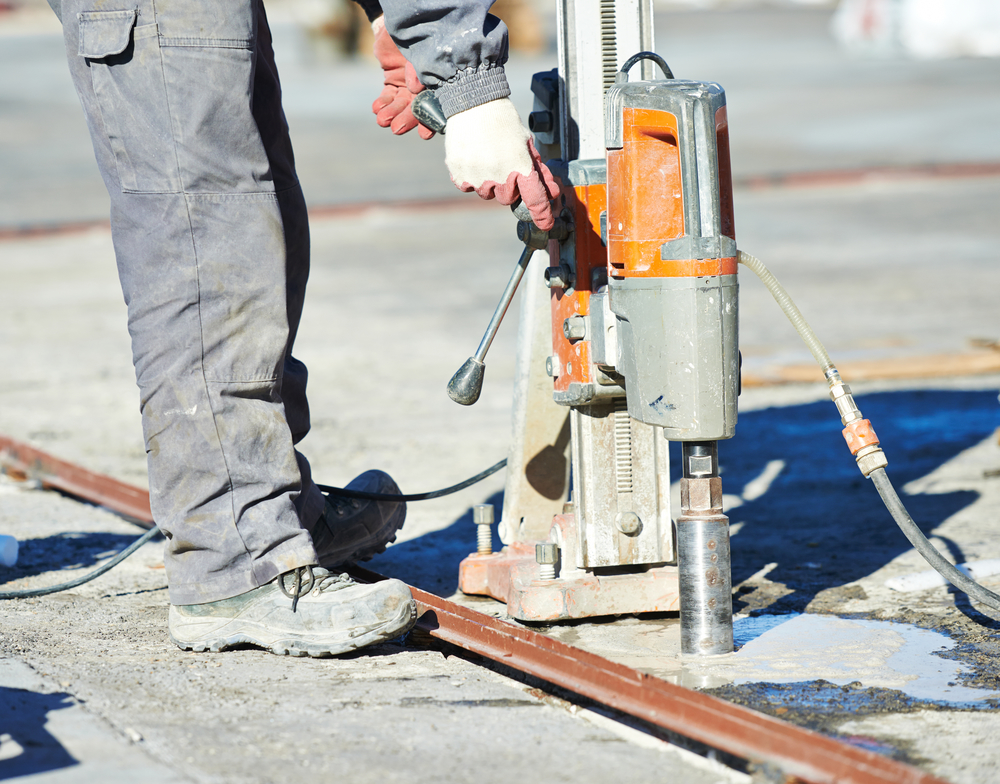 Mudjacking is the most commonly used method of slab leveling; however, foamjacking – which is slabjacking done with polyurethane foam – is quickly becoming a very popular choice. The repair job is completed in three basic steps.
Step 1: Contractors Drill Holes in the Sunken Concrete Slab
The foamjacking process begins with the contractor drilling a series of holes in the damaged slab. The placement of the holes is strategically planned to provide proper lift to the settled or sunken portions of the slab.
How many holes will your slab need? The number will depend upon how much the concrete has settled.
But don't worry – your concrete slab isn't going to look like a piece of Swiss cheese. The holes needed for the slab leveling process are very small, only about a half-inch wide. Once the repair job is complete, the holes will barely be noticeable.
Step 2: Polyurethane Foam is Injected for Concrete Slab Leveling
After the drilling process is complete, a tapered delivery port is installed into each hole. Then, an injection gun is attached. This equipment mechanically seals the holes so that no material can be spilled during the foamjacking process.
Now comes the fun part.
Polyurethane foam is injected into the holes, a little at a time, so that the contracting team can monitor the raising process. Within seconds, you can see the slab begin to lift.
How does that happen? The closed-cell polymer foam begins to expand as soon as it is injected. As it expands, the material fills any voids or empty areas in the soil under the slab. Once those are filled, pressure lifts the slab back to its original position.
Step 3: What Happens After Concrete Slab Leveling
Once the slab is stabilized, the drilled holes are refilled with concrete. Then, any cracks in the concrete must be sealed. Some homeowners take the do-it-yourself route for caulking the cracks, but most prefer to have their professional concrete contractor perform the work to ensure it is handled properly.
Even while the foamjacking work is in process, the surface is safe for foot traffic. Once the repair is finished, the concrete is stable and secure under weight. So you can go ahead and put your patio furniture back, for example, or return your car to the driveway.
The professional team at Lift Right Concrete LLC, serving homeowners throughout northern Utah, can inspect your slab to determine if foamjacking is the right approach. Contact our Grantsville or West Jordan office today to schedule your concrete slab leveling consultation and estimate.