Did you know that foamjacking is an ideal way to repair specialty concrete that has sunken, cracked or shifted?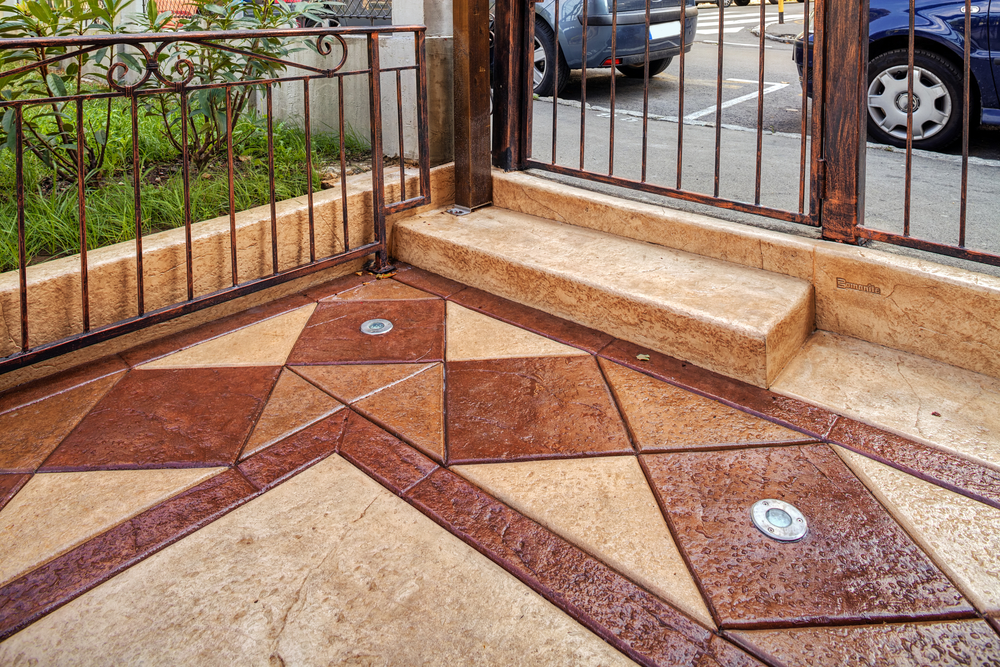 If unsightly cracks or sunken areas have turned your eye-catching stamped concrete into an eyesore, industry experts typically recommend foamjacking. The more traditional mudjacking process can also work to stabilize your concrete, or you could opt to replace your specialty slab.
Foamjacking, however, is often the preferred choice for raising decorative concrete.
Foamjacking Preserves the Look of Decorative Concrete
Homeowners and business owners choose stamped concrete for its stunning visual appeal and the value it adds to your property. Foamjacking is the ideal solution for maintaining that visual appeal, with minimal visual evidence that repairs were ever done.
The foamjacking process involves injecting a polyurethane foam under your damaged slab. This high-tech substance fills the voids or empty areas in the underlying soil and returns the slab to a level position. To achieve this outcome, a few small holes -- about the size of a dime – will be drilled in the concrete surface. The foamjacking holes are strategically located to lift the slab with little disruption to the decorative design.
Mudjacking, a process similar to foamjacking, also requires drilling holes in the slab. However, mudjacking holes are much larger than those for foamjacking, about 2 inches each in size. Consequently, repairs to your stamped concrete will be much more visible if you choose this approach.
Foamjacking Protects Your Stamped Concrete
Once you repair a damaged slab, you don't want to have to pay for the same repair again.
With foamjacking, repeat repairs are quite unlikely. The polyurethane foam cures and hardens to stabilize the soil foundation below the slab. And, because the foamjacking material is lightweight, the burden on the soil under the concrete is reduced.
In contrast, the cement slurry mixture used with mudjacking is much heavier. Over time, the material can compress the loose soil under your slab and cause it to settle. And as for slab replacement, pouring new concrete won't fix the problems in your soil that led to your cracks or sunken areas in the first place.
Consequently, you may experience similar damage in the future with the new slab.
Foamjacking is a Fast, Effective Repair for Decorative Concrete
Foamjacking is much faster than other methods of concrete repair.
Drilling the holes and injecting the polyurethane foam takes only a few minutes. The foam quickly expands to fill voided areas in the soil, and your stamped concrete slab is raised back to its original position. The surface is ready for use immediately after the foamjacking repair is finished, and the foam material completely hardens within about 15 minutes.
Mudjacking takes a little longer to complete than foamjacking and, afterward, your concrete slab won't be fully stabilized for about 24 hours. If you opt for slab replacement, be prepared for a lengthy repair process as well. Plus, you'll have to wait a few days before you can use the newly poured surface.
Lift Right Concrete LLC is your locally owned and operated expert for residential and commercial concrete repairs in northern Utah. We have two convenient locations to serve you, in Grantsville and West Jordan. Contact us today to request a complimentary estimate for concrete lifting and repair, including mudjacking and foamjacking.