Do you have concrete cracks at your home or business?
Concrete industry insiders say this ubiquitous material comes with two guarantees: It will get hard, and it will crack. So it's not surprising that many homeowners and business owners must deal with cracking sidewalks, steps, driveways and slabs.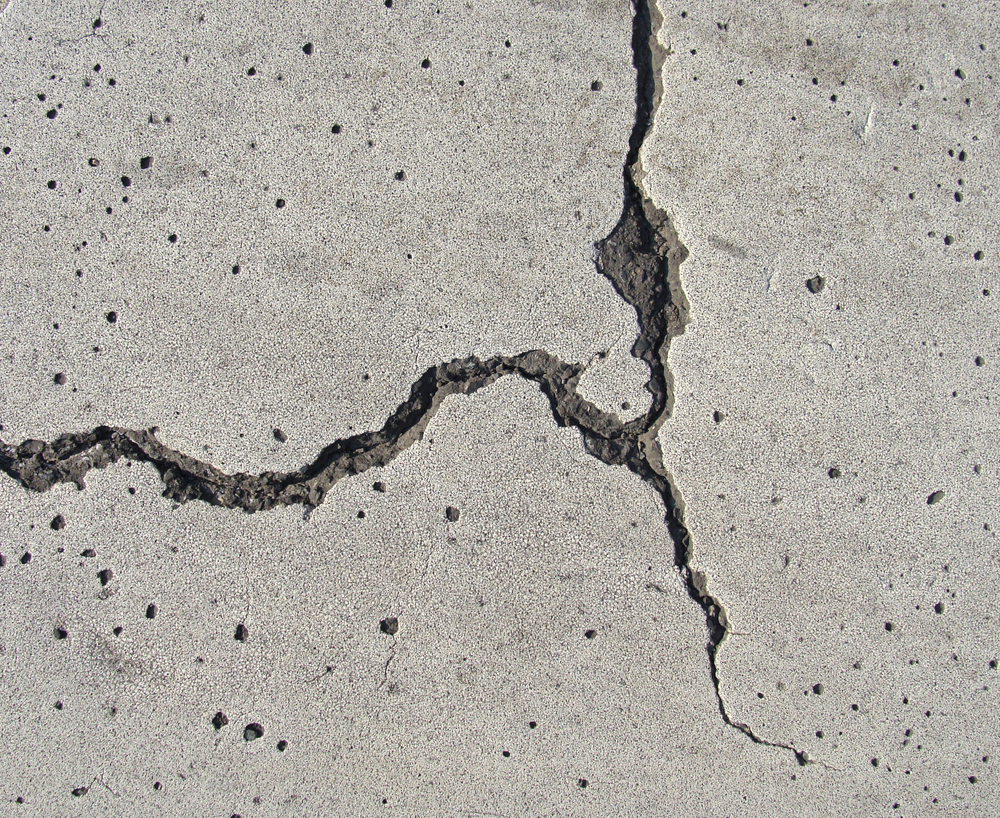 Cracking can never be entirely prevented, especially in the weather extremes of northern Utah. Sometimes, however, cracking or sinking does occur as the result of poor construction practices, materials and workmanship.
Concrete Cracks Due to Incorrect Water-to-Cement Ratio
Sometimes concrete workers add a little bit of extra water to the cement mixture, to make it flow better or so that it's easier to work with. But by doing so, the strength of the concrete is compromised and the likelihood of settlement cracks increases.
Too little water can also be a problem. If the mixture is too cement-heavy, the temperature difference between the interior and exterior of the concrete increases during the curing process. In this case, shrinkage and thermal stress increase which, in turn, can make the slab more prone to cracks.
Inadequate Curing Can Cause Concrete Cracks
To be the strongest and most durable, concrete must be properly cured. The curing process allows the primary components of aggregate, cement and water to bond and harden correctly.
While curing, the slab must be maintained at a constant temperature – generally somewhere between 50 and 75 degrees. The surface of the slab must also be kept moist to prevent water from evaporating too quickly. Water curing is a commonly used method, though plastic sheets or membrane-forming compounds may also be used.
Without proper curing, the concrete will not remain adequately hydrated. Consequently, its strength is reduced and shrinkage cracks are more likely to occur.
Faulty Footings Can Result in Concrete Cracks
If your concrete slab doesn't have the right support beneath it, it will settle and you will experience cracking.
Although various means of support are used in different construction applications, most structures rest upon concrete footings of some sort. If the soil below the footings lacks pressure and stability, settling can occur. Likewise, if the footings aren't properly sized, or if the formwork is not placed correctly, the slab will not have adequate support to remain level and intact.
Compaction is another potential cause of concrete cracks. Air trapped within the slab itself must be expelled to ensure that the slab is adequately dense and impermeable. Compaction may be done by hand or by mechanical means, through vibration. If compaction is inadequate, cracks become more probable.
Licensed contractors in Utah are required to provide a materials and workmanship warranty for their work, but only for a period of one year. If your slab has problems after that period has expired, you must pay for the repairs. If you have a cracked concrete slab, prompt repair is necessary to stop water from permeating and making the damage worse.
The experienced professionals at Lift Right Concrete LLC provide a variety of repair services to homeowners throughout northern Utah. Call our West Jordan or Grantsville office today to schedule a consultation for repair of your concrete cracks.